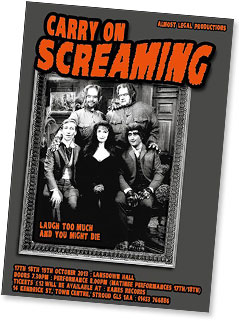 Our first take on the Carry On.. series had to be good. Well, such a seasoned array of character actors and wonderful double éntendre prescribed by Talbot Rothwell was no easy feat to take to the boards, but without blowing our own trumpet (which we are) we did!
The colours were right and the acting stayed as true to the original as possible. This can only lead to another surely?



Carry On Screaming is the twelfth in the series of Carry On films to be made and was released in 1966. A parody of the Hammer Horror films, which were also popular at the time, Screaming follows a plot vaguely similar to that of the 1953 film House of Wax.